Introduction:
For developing this ecosystem, the 152-year-old Tata Group will bring together other entities of the group mainly, Tata Chemicals, Tata Power and Tata Motors. The other entities which can also be part of this ecosystem are Tata AutoComp, Tata Motors Finance and Croma. All of this groups will come together in Synchronized manner to build EVs ecosystem of the Tata Group.
Let's see how all this companies will contribute to this EVs Ecosystem of Tata Group:
1) Tata Motors:
Manufacture the Electric Vehicles.

Launched its first EV SUV- Tata Nexon EV
2) Tata Chemicals:
Lithium-Ion Batteries which are considered as an important component EVs, can be developed by the Tata Chemical in order to extend support to Tata Motors to build EVs.

It is presumed that Tata Chemicals will set up battery manufacturing and recycling facilities across the country with total estimated investment of ₹800 crore.
3) Tata Power:
For Charging EVs, Tata Power can lend their support to Tata Motors by setting up charging stations across the country.

As of now, Tata Power has established 100 charging stations in 8 cities and they are planning to increase this number to 650 charging stations in next one year across 25 cities.
Other Entities will play the following role in this ecosystem:
1) Tata AutoComp: This company will work for localization of the EVs produced by Tata Motors upto 70%
2) Tata Motors Finance: It will provide financial support to customer via financing the EVs at competitive interest rates.
3) Tata Croma: Promote the EVs Initiative of the Tata Group. It may also help the group by providing their customer base as well through cross-selling
If this Electric Vehicle ecosystem of the Tata Sons is established properly in the coming years , it will surely give the Tata group a stage to hold a leading position in the upcoming EV market in India. The present figures also shows the readiness of the Tata Motors in EV segment. In 9MFY21 period, out of total sales of EVs, 65% sales were by Tata Motors.
Keeping in mind the growing market of EVs in India, these 3 stocks of Tata Group (Tata Motors, Tata Chemicals & Tata Power) should have a secured place in your Stock Watchlist.
Tata Chemical-Stock Analysis
Another Stock of the Tata Group-Tata Chemicals is now the focus of attention. Let's discuss about this gem of Tata Group!
Outlook of Tata Chemicals wrt EV:
The Company is looking forward to work on their statement of developing an EV system. The Company is working on expansion plans by spending massive ₹800 crore for setting up Lithium-Ion Battery manufacturing plant and recycling facilities. Also, the usage of Soda Ash in manufacturing lithium batteries (batteries based on Li-Carbonate Salt) can work as cherry on the cake. Tata Chemicals is world's 3rd largest Soda Ash producer.
Market Valuation and Strong Downside Protection:
Currently, Tata Chemical is a mid-cap company with market cap of approx. ₹14,750 crore. But, the real valuation of Tata Chemical is not limited to their own business, rather they have several stakes in various companies. Following are the key stakes of Tata Chemical in Tata Groups:
i) Tata Sons:
Tata Chemicals holds 2.5% stake in Tata Sons.

If we look over the worth of this 2.5% stake, Tata Chemical gains market Capitalization of ₹20,000 crore (approx.) from Tata Sons, as the market value of Tata Sons, is estimated to be around ₹8 lakh crore.

Market Capitalization of Tata Chemicals is about ₹14,750 crore and their mere 2.5% stake in the unlisted company yields them market value of ₹20,000 crore. This value provides downside protection to the business of Tata Chemicals.
ii) Rallies India Ltd.:
Rallis India is engaged in the business of providing crop care solutions and agri services.

In this company, Tata Chemicals hold 50.06% stake.

The current market cap. of Rallis India is around ₹5,100 crore, which presents that half of the market valuation i.e., ₹2,600 crore is owned by Tata Chemicals.
iii) Titan:
Considering the above valuations, Tata Chemicals provides a healthy downside protection to the investors. On one hand, where the company is itself valued at ₹14,750 crore, whereas, on another hand, the value of its investments crosses the mark of ₹25,000 crore.
Even at this point, we apply 20% holding company discount, its valuation will not be less than ₹20,000 crore.
Keeping Aside the market valuation, its standalone business has the potential to generate profit of ₹1,000 crore over the coming years.
Brief Overview towards Q3FY21 Results: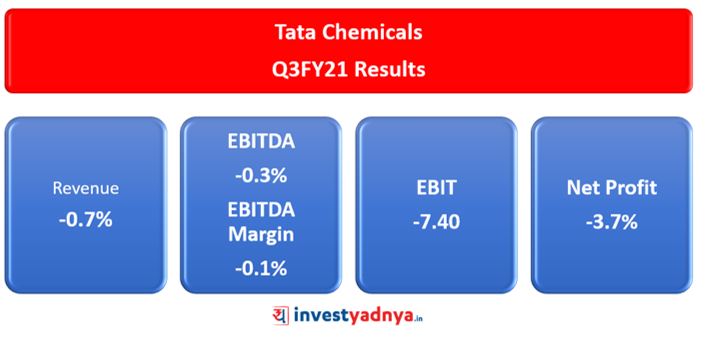 Stock Price Movement and Valuation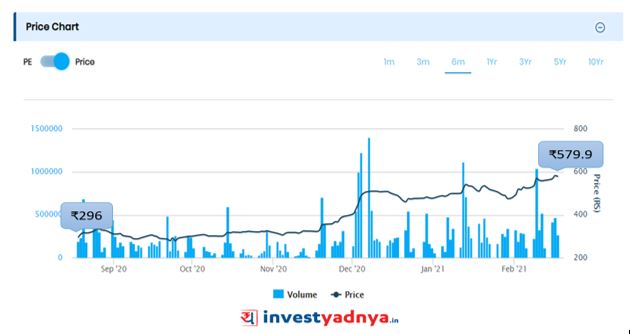 Tata Chemicals stock has witnessed a rally of almost 96% in just 6-months between August 2020-February 2021. As of 18th February, stock price is ₹579.9.
The stock currently trades at 1.15 times of its book value. Their PE ratio stands at 20.97 cheapest among all the Chemical sector stocks.

Conclusion:
The steps taken by management towards developing an EV ecosystem and to become a market leader in the segment, this stock will have great amount of responsibility to take forward the visions of the Tata Group. If happens so, this stock can be one of the multibagger stocks in coming 10 years.