Introduction:
With the significant pace of revival of economy from Covid-19 situation, rising normalcy and favorable festive season, automobile sector stocks have enjoyed a strong rally. Demand of Passenger Vehicles (PVs) and Commercial Vehicles (CVs) has been strong over the time. Sales of PVs has grown in double digits and is expected that it will sustain in the coming quarters as well.
Today let us discuss the performance of an auto company, which is a market leader in passenger vehicles, Maruti Suzuki.
Quarterly Results (Q3FY21)- Standalone:
Q3FY21 has proven boom period for all the companies in auto space and same has reflected in the quarterly performance.

Operating EBIT (Earnings before Interest and Tax) has outperformed the sales by growing 19.3%, which further has improved the Operating Profit Margin by 0.3%, from 6.3% to 6.6% year on year.

Likely, Tata Motors have efficiently managed to improve the operating profit margin by 3%-4%. This has opened the scope of growth or improvement of OPM for Maruti Suzuki.

Profit Before Tax (PBT) on year-on-year basis is gone up by 22.1% and thereof Profit After Tax (PAT) has also went up by 24.1% on YoY basis.

EPS of Maruti Suzuki is also increasing.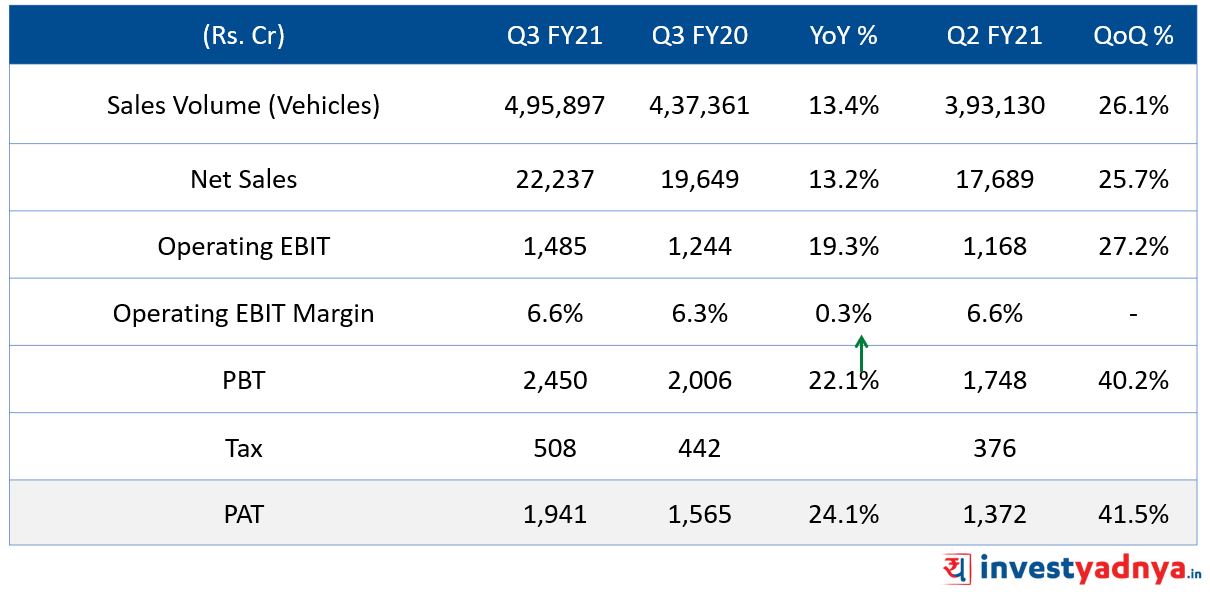 Sales Mix- Geographical Wise:
Company's domestic sales have also gone up by 13% on YoY basis and 26% on sequential basis.

Exports have also presented optimistic picture. It has increased by 20.6% on YoY basis and with sequential growth of 27%. In context of exports, there is scope available for the company to enter into the emerging markets with their entry-level cars and thereby can increase their exports share.

Overall, Sales have increased by 13.4% year on year.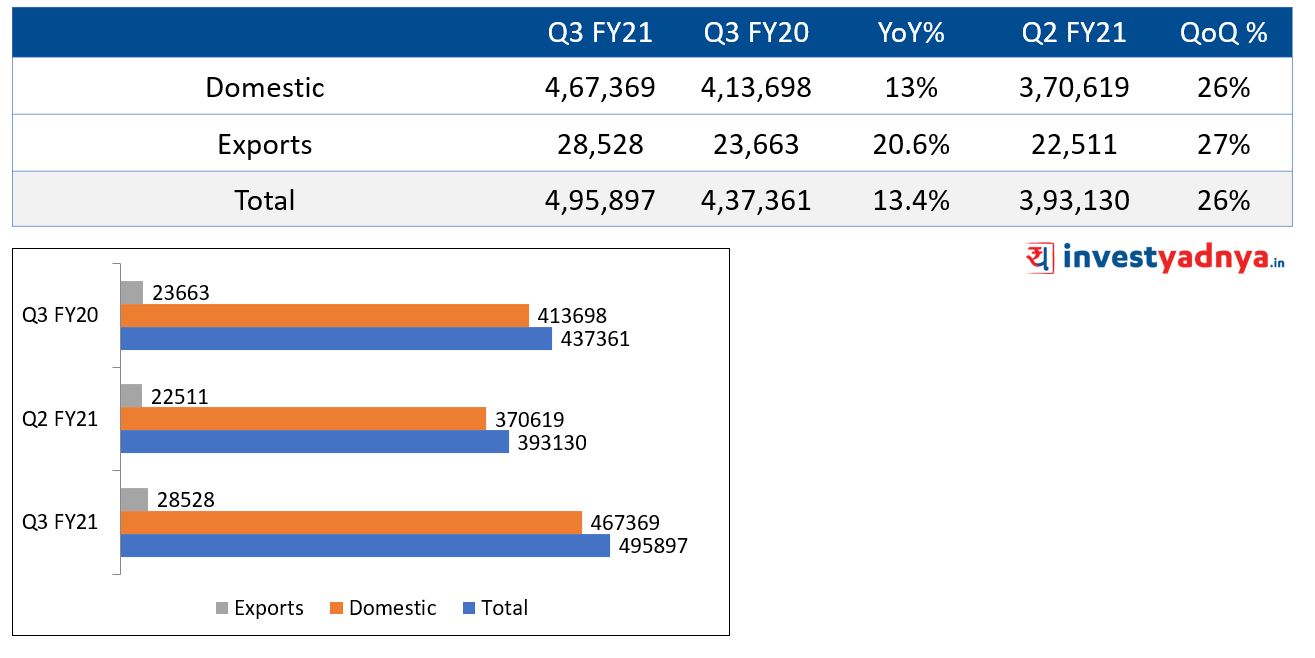 Sales Growth- Segment Wise:
Company's compact cars have performed well in the market and hence posted a good growth in its sales. On quarterly basis, sales of Compact cars are up by 26.1% and there is 14% growth on YoY basis. Compact Cars account for 52.9% of Total Sales.

Sales of Utility Vehicles increased by 6.7% year on year and Vans has also increased by 28.4% on YoY basis. It contributes share of 16.9% to total sales.

Due to small base, Light Commercial Vehicles (LCVs) have also performed well and is up by 92.1% on YoY basis. This segment contributes 1.5% to the total sales of the company.

Also, there is no major changes in sales volume trend except for their Mini Vehicles which is down by 2% on YoY basis.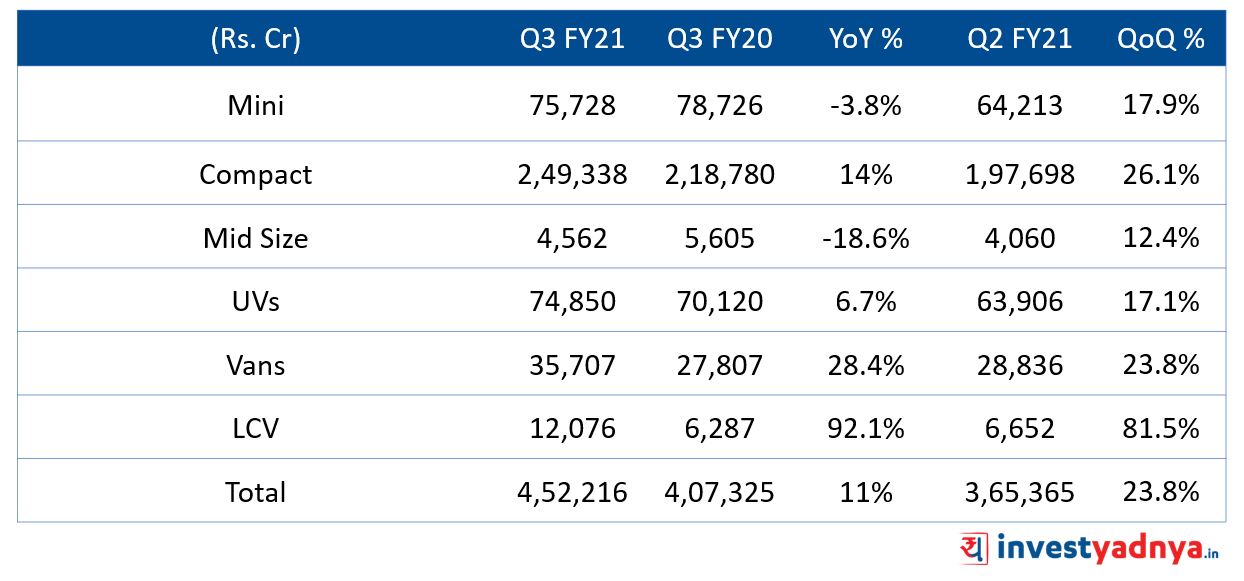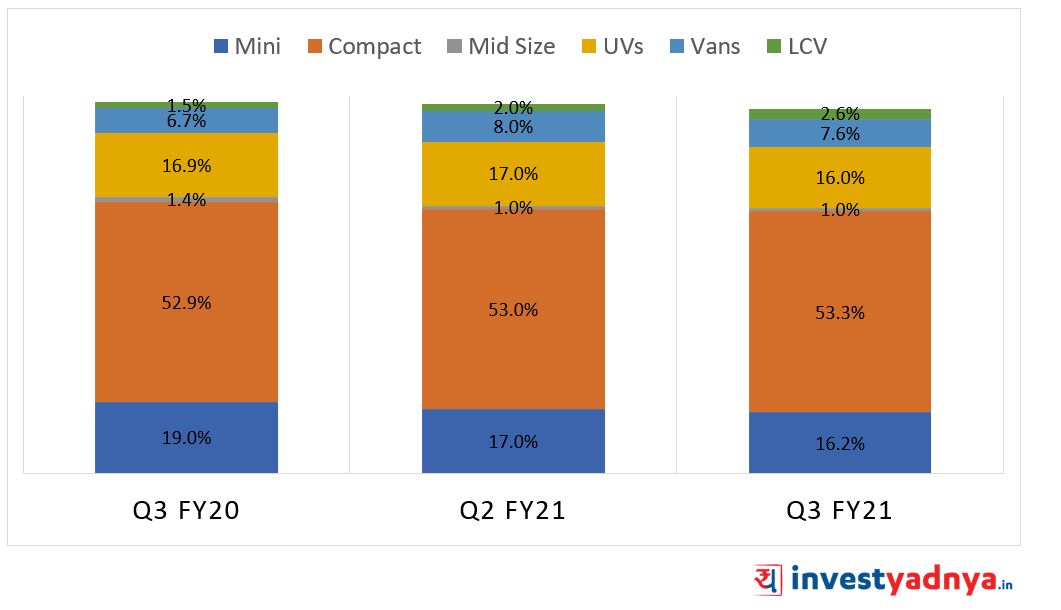 Positive Factors
Company has managed to improve the production capacity and capacity utilization.

Covid-19 has positively benefited the automobile company. As of precautionary measures, public usage of vehicles has been reduced and use of personal mobility like Cars/Bikes, etc. has increased , which resulted in healthy sales growth. Also, the notable factor here is that sales growth is not achieved at any cost of promotion or any marketing strategy. Despite lower promotions, the sales of the company have increased.

Auto Sector was already going through slowdown phase after 2019 and due to Covid-19 it got worsened. Increasing personal mobility holds a great scope for the companies to grow.

Introduction of Vehicle Scrappage Policy is also expected to augur the automobile companies.
Challenges:
Electric Vehicles (EV):

As of now, the company is not providing any clear thoughts regarding its plan about electric vehicles, which is quite worrisome. On the other hand , its competitior - Tata Motors is showing good traction in EV space.

Safety Concerns:

Company's buildup quality in relation with safety needs to be carefully looked at, in order to maintain their market share in future as well. Currently they have 50% market share in passenger vehicle market.

Stiff Competiton:

In current scenario, Tata Motors under the leadership of N. Chandrasekaran has came up as a strong competitor for Maruti Suzuki. As a matter of fact, Tata Motors has managed to save $2.2 Billion out of Targeted amount of $2.5 Billion in this financial year as their objective of cost saving.