INTRODUCTION
The recent pick up in Real Estate activity on the Retail side has cheered Housing Finance Companies. The positive growth outlook of the affordable housing segment is going to augur well for HFCs. Here is a detailed comparative analysis of the top 7 Housing Finance Companies based on 9 key metrics. It will help you decide where Home First Finance Company (HFFC) stands amongst its peer HFCs.
The gloomy of the pandemic is slowly coming to light in NBFCs as well as housing finance companies. It is estimated, as per the guidance by RBI that by September 2021 financial institutions could witness gross NPAs to the tune of ~13%-15%.
However, Asset backed Mortgages/Loans are relatively safer and hence the IPO of Home First Finance has seen phenomenal response from investors and there are changes of good 20%-30% listing gains. Demand is evident and cannot be denied.
Housing Loan % Share
Housing Finance Companies apart from home loans provide other offerings like Home Loans, Loan Against Property (LAP), Construction Finance, Land/Plot Loan as well as Home Construction/Renovation/Improvement Loans.

Home First Finance and Can Fin Homes lead in this category with a Housing Loan % share of ~92% followed by Repco Homes at 81.1%. Investor darling HDFC Ltd stands at 74.8%, while PNB Housing Finance is at the bottom with a mere 65% housing loan % share.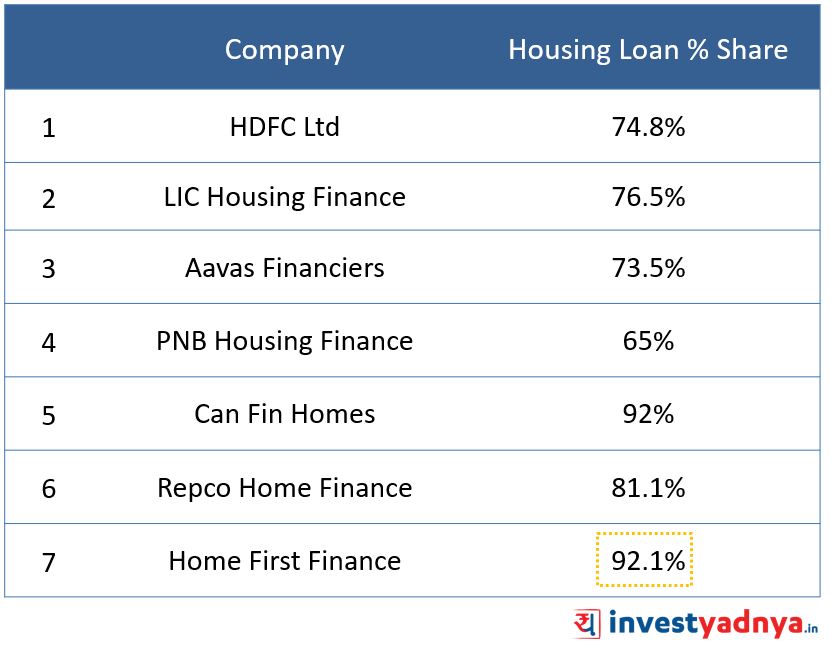 Loan Mix – Salaried %
Empirical data suggests that loans granted to salaried individuals are less prone to default and safer on comparison others like self employed individuals. Higher the Salaried % indicates lower risk taken by the finance company.

LIC Housing Finance ahead of the rest with Salaried % at 87%, followed by HDFC Ltd at 79%. PNB Housing finance lags behind at 44%.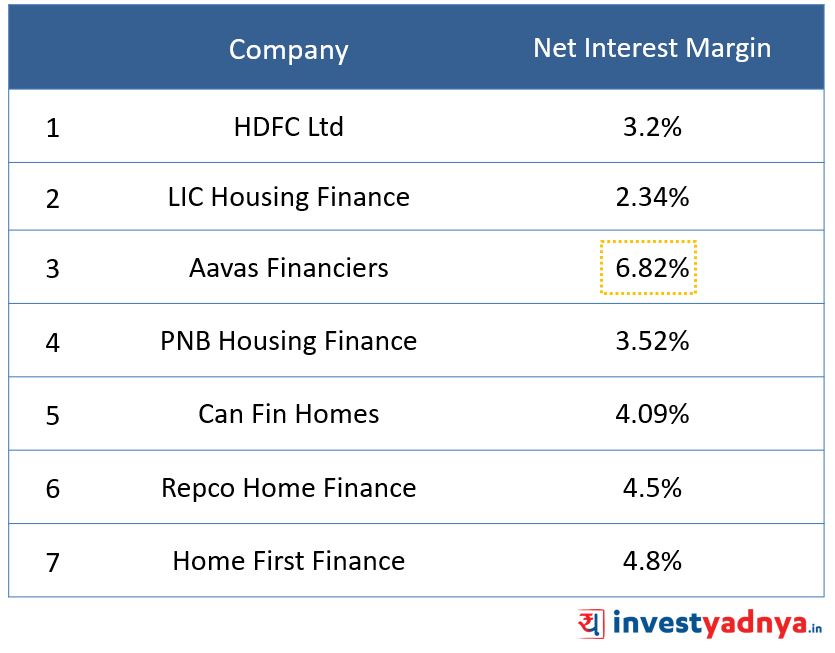 Net Interest Margin
Net interest margin is a measure of the difference between the interest income generated by banks or other financial institutions and the amount of interest paid out to their lenders, relative to the amount of their assets. It is similar to the gross margin of non-financial companies.

Aavas Financiers lead the pack in this segment with Net Interest Margin at 6.82%. None of its peers are even close to it. This could be because the company disperses fewer loans and hence has been able to maintain lofty margins.

LIC housing Finance has the lowest Net Interest Margin of 2.34%. Home first finance is better than most of its peers at 4.8%.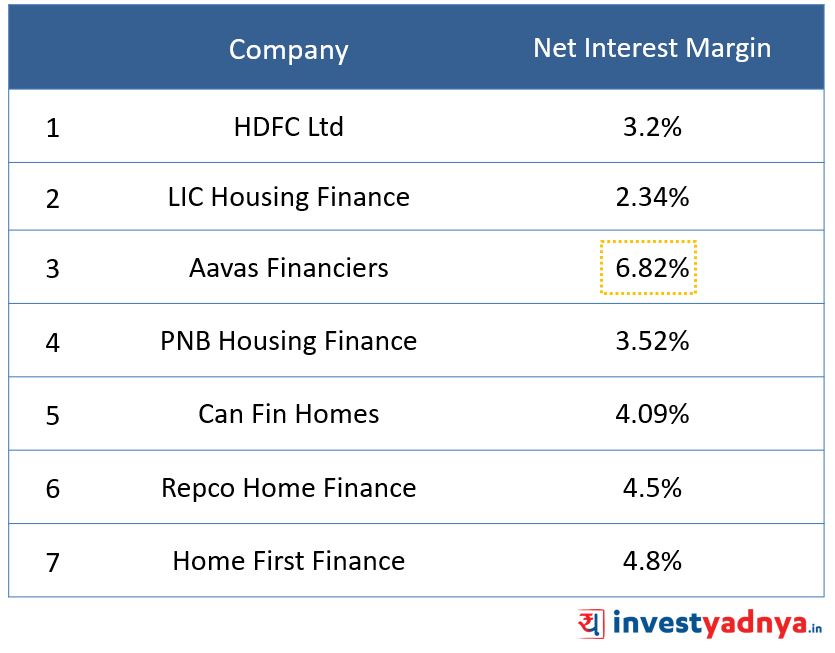 Cost of Borrowing
The point to keep in mind here is that, the lower the cost the borrowing for a financial institution, the more beneficial as it can then lend at higher rates and enjoy a wider gap.

Surprisingly, CanFin homes is at the top with the lowest cost of borrowing 7.1%, closely followed by HDFC Ltd at 7.2%. Home First Finance bears the brunt with the highest cost of borrowing at 8.6%.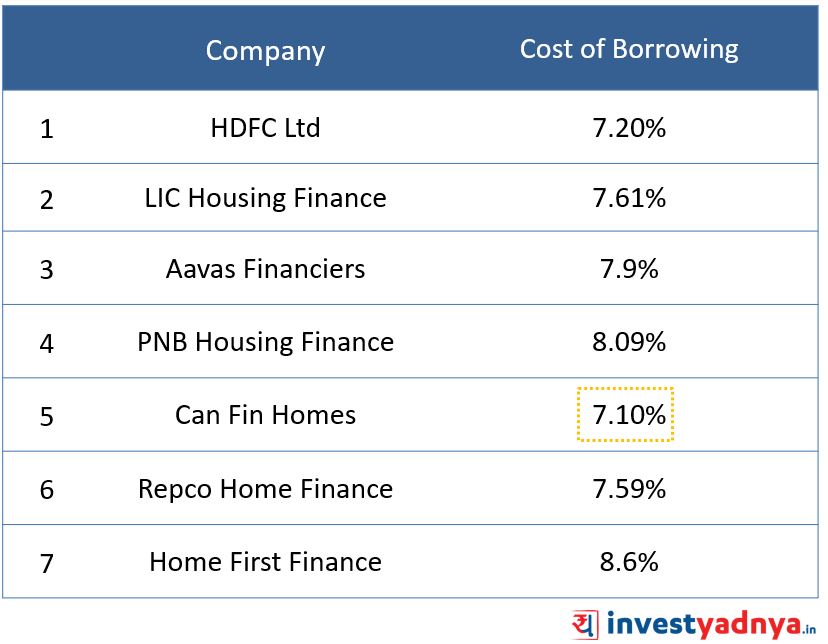 Capital Adequacy Ratio (CAR)
Capital Adequacy Ratio is the ratio of a bank's capital to its risk. Regulators track a bank's CAR to ensure that it can absorb a reasonable amount of loss and complies with statutory capital requirements. The Capital Adequacy Ratio (CAR) helps makes sure banks have enough capital to protect depositors' money.

Home First Finance and Aavas Financiers have the highest CAR at 51.5% and 50.8% respectively. LIC Housing Finance has the lowest CAR at 14.5%.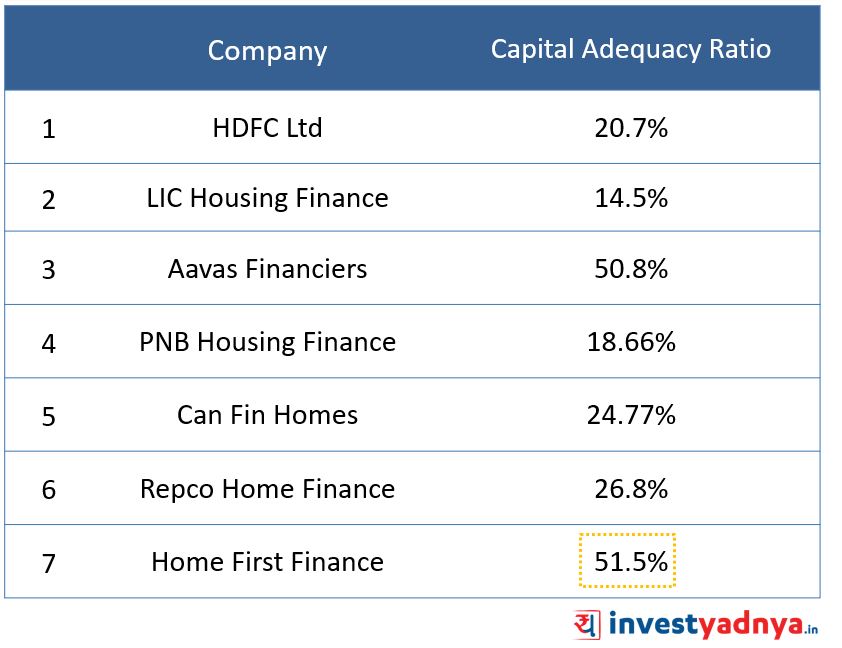 Gross and Net NPA
Gross NPA stands for the Gross Non-Performing Assets. It is the term used by commercial banks that refer to the sum of any unpaid debt, which is classified as non-performing loans. While, Net NPA stands for Net Non-Performing Assets. It is a term used by commercial banks to indicate less allowance for poor and uncertain debts than the amount of non-performing loans.

Aavas Financiers, Can Fin Homes and Home First Finance are safe with relatively lower NPA numbers. On the other hand Repco Home Finance, LIC Housing Finance and PNB Housing Finance are in the danger woth very high NPA figures.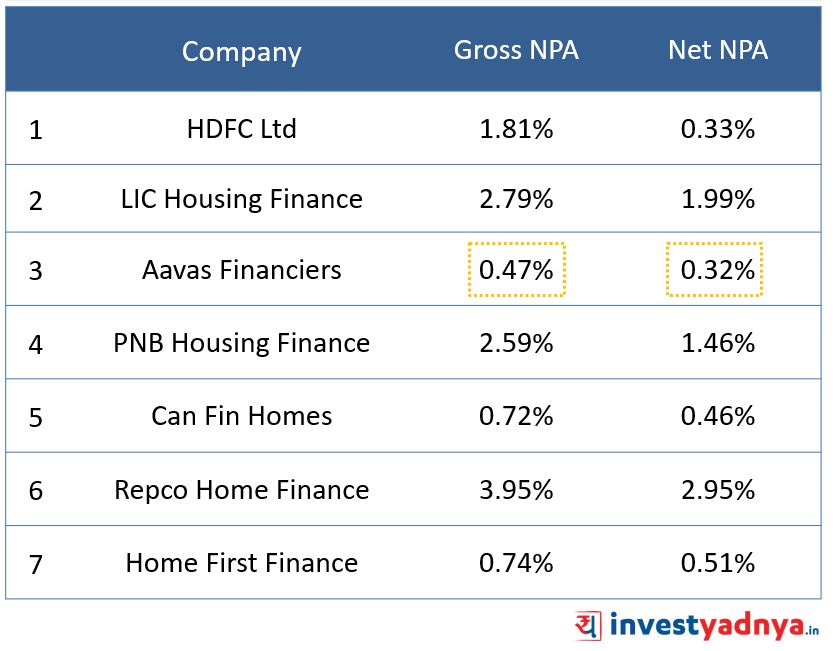 Return on Assets (ROA)
Return on assets (ROA) is an indicator of how profitable a company is relative to its total assets. ROA gives a manager, investor, or analyst an idea as to how efficient a company's management is at using its assets to generate earnings.

Aavas Financiers is in command with 2.9% ROA followed by Repco home finance at 2.5% and HDFC at 2%.

PNB Housing Finance and LIC Housing Finance have poor ROA numbers at 0.8% and 1.4% respectively.
Return on Equity (ROE)
Return on equity (ROE) is a measure of financial performance calculated by dividing net income by shareholders' equity. Because shareholders' equity is equal to a company's assets minus its debt, ROE is considered the return on net assets.

HDFC has given the highest return to its equity shareholders i.e. 21.7%. While the lowest is for PNB Housing Finance at 0.8%.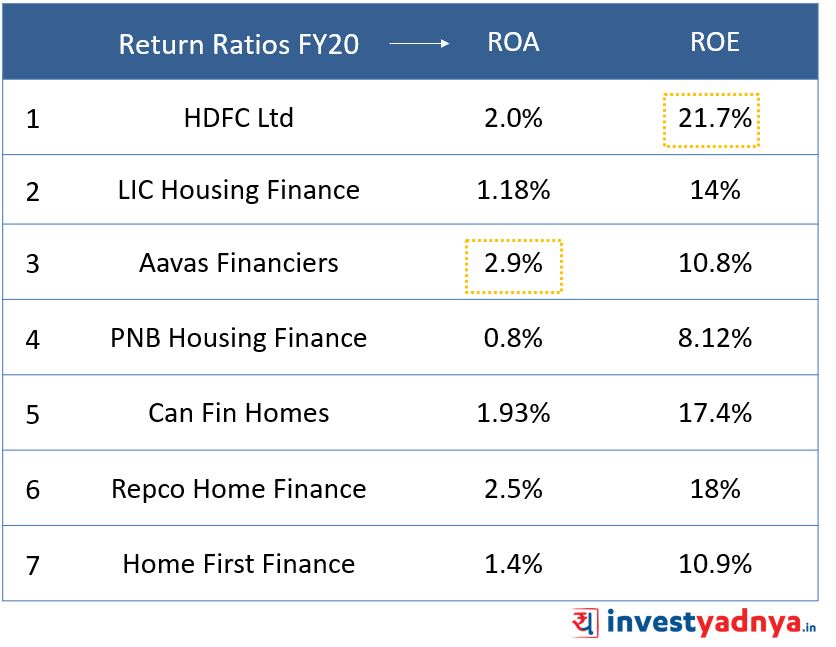 CONCLUSION
From this comparison Aavas Financiers leads the pack in 4 parameters followed by Home First Finance in 2 parameters and then HDFC, Can Fin Homes and LIC in 1 parameter each.
From the above analysis we can easily discern that PNB Housing Finance is suffering and is on dangers waters. Investors must be cautious.