HDFC Bank Q3 2020 Result Analysis
About HDFC Bank: HDFC Bank Analysis
HDFC bank is one of the leading private sector banks in India. It provides a vast range of banking services to corporate and retail customers.


HDFC Bank Q3 FY20 Results Update: HDFC Bank Result Analysis
In this article, we are going to see HDFC Bank Q3 FY20 results update. Lower tax rate and steady operating performance lead to a 33% rise YoY in Net Profit of HDFC Bank for the October-December quarter.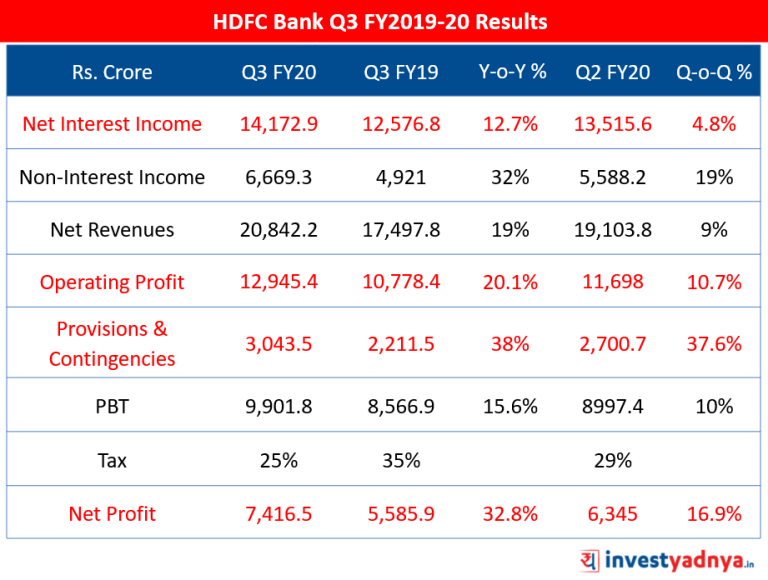 Net Interest Income (NII) is increased by 12.7% YoY driven by :

Growth in advances of 19.9% and deposit growth of 25.2%
Stable Net Interest Margin of 4.2% for Q3 FY20

Non-Interest Income growth is 32% YoY as well as 19% QoQ mainly because of :

Rise in Fees & Commission Income (24% YoY & 12% QoQ)
Miscellaneous Income including Recoveries & Dividends seen a robust growth of 134% YoY & 87% QoQ
Excellent Gains on Revaluation / Sale of investments in Q3 FY20

Operating profit is increased by almost 20.1% YoY on account of :

Increase in Balance sheet size by 13.2% YoY and 4.7% QoQ
A rise in bank's efficiency (Improved cost to income ratio) is observed

Provisions and contingencies for the quarter Q3 FY20, were Rs.3,043.5 Cr with a YoY growth of 38% as against Rs.2,211.5 Cr for Q3 FY19.

The key components of provisions are specific provisions, general provisions and floating provisions.
General provisions include additional provisions for standard advances to the NBFC / HFC sector.

Net profit rise of almost 32.8% YoY and 16.9% QoQ is mainly due to

Corporate tax rate cut : Effective tax rate has come down to 25% in Q3 FY20 from 35% Q3 FY19 and 29% Q2 FY20
Strong Operating Profit growth 20.1% YoY and 10.7% QoQ

Q3 FY20 Balance sheet Summary: Financial Performance Of HDFC Bank

HDFC Bank financial statements depict the bank's financial performance, offering figures of the deposit & advances mix.



HDFC Bank Q3 FY20 Balance sheet Summary - Financial Analysis of HDFC Bank




Deterioration in the Asset Quality
During Q3 FY20, Asset quality has deteriorated slightly and slippages were elevated.
Gross NPA increased to 1.42% in Dec-19 quarter from 1.38% in last quarter as well as Dec quarter previous year. While Net NPA is increased to 0.48% in Q3 FY20 from 0.42% in Q2 FY20 and Q3 FY19.
Provision Coverage Ratio (PCR) has also come down to 66.7% in Q3 FY20 from 69.7% in Q2 FY20 and Q3 FY19.
CASA Ratio
CASA Ratio reduced to 39.5% from 40.7% last year and improved slightly from 39.2% last quarter. It is because :

Total deposits have grown by 25.2% YoY and 4.5% QoQ, the contribution of CASA deposits in the total deposits was slightly with the lower growth rate.
The share of Time deposits is higher and it has increased at a phenomenal growth rate of 27.7% YoY, higher than the growth rate of even total deposits.
It indicates total deposits are increased mainly on account of Time deposits.
Capital Adequacy Ratio (CAR)
HDFC Bank's total Capital Adequacy Ratio (CAR) as per Basel III guidelines was at 18.5% as on December 31, 2019 from 17.5% as on September 30, 2019. CAR is well above the regulatory requirement level given by RBI.
CAR has improved to 18.5% in Q3 FY20 from 17.3% in Q3 FY19.
Net Interest Margin (NIM)
Net Interest Margin (NIM) and the asset growth, both drives the Net Interest income of the bank.
NIM for the quarter Q3 FY20 remained stable at 4.2% same in Q2 FY20, but reduced from 4.3% in Q3 FY19.
Cost to Income Ratio
For Q3 FY20, the Cost to Income Ratio improved to 37.9% from 38.4% in Q3 FY19. While the ratio was 38.8% in Q2 FY20.
Cost to income ratio of any bank tells how much cost is incurred to generate operating income of Rs.100 for the bank. The improvement in the cost to income ratio of HDFC bank in Q3 FY20 indicates :

The rise in operational efficiency of the bank
Increased profitability as compared to Q3 FY19 & Q2 FY20

All in all, the following HDFC bank annual report will help the investors to make a viable investment decision.
Invest Yadnya's Other Resources For Detailed Stock Analysis
Our website offers multiple resources on HDFC Bank. You can check out our stock articles- HDFC Bank Stock 4 point Analysis, HDFC Bank Stock Analysis (Retail Loan Book Analysis and Guidance), HDFC Bank Q1 FY 2020 21 Results Highlights & many more. These articles will offer a detailed review of HDFC Bank stock.
Make all your investment decisions with us, as we offer quality financial advice. For more of such quality content, check out Invest Yadnya.