Introduction

Stock Market faced incredible rally in the year 2020 and has almost doubled from the lows of March 2020. Cheery on the cake, not only recovery, but indices such as BSE& NSE have also reached their all-time high. In last 1 year, Steel stocks have generated returns between 100% to 200% and more. So, lets read what is the future outlook of this sector.
Steel Sector in 2020:

Overall, year 2020 was not so good for the India Steel Sector. This industry witnessed 12% decline in steel output between January to December due to lockdown which led to reduction in capacity utilization.

Also, the steel prices were also going up to a record high level due to delayed resumption of auctioned leases in Odisha & shortage of supply of domestic iron ore.

Healthy comeback was noticed in the steel sector in the year end as the capacity utilization reached to 90%-95% from the lows of 30%-40% in April 2020, mainly because of rising demand from auto & construction sector and with easing down of lockdown.

Factors that lead to a boost gross margins iron & Steel industry –
i) Higher automotive sales: The festive seasons & increased self-mobility led to increase in demand in automotive industry, which directly benefited the steel industry as well.
ii) Higher rural consumption on the back of good monsoon.
iii) Government spending on infrastructure: Focus of government towards infrastructure spending due to sluggishness in private investments.
Overview of performance of Steel Sector of India in 2020:
In 2020, the Crude Steel Production decreased by 12.3% and has came down to 95.6 million tonnes due to reduced capacity utilization during lockdown which lowered the output level.

Whereas, increase in export of steel has been reported that too at a good rate. Steel export in 2020 reached to 17.3 million tonnes with increase of 44.2% due to subdued downstream demand amid pandemic. The sentiment of Anti-Chinese benefitted our steel sector, as it boosted India's export.

Further, de to higher landed cost i.e., import duty on steel, there was fall in steel imports by 40% and stood at 3.9 million tonnes.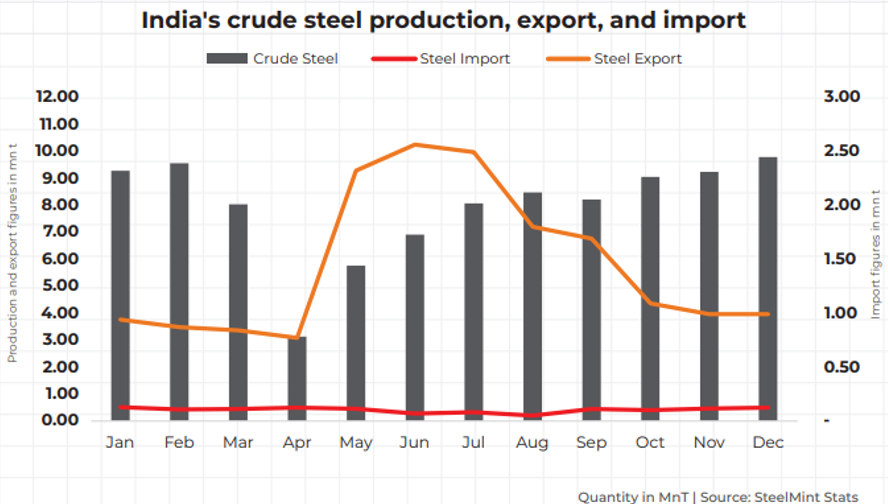 Steel Consumption beats the Production Level:
Steel Consumption has surpassed the production level of India for 3rd Straight month ended January 2021. Consumption of steel was more than its production in the month of November & December as well.

Ultimately, with more consumption & less production, the balance was managed by imports.

Production of finished steel rose from 4.1% to 9.5 million tonnes, whereas on another side, consumption reached to 9.97 million tonnes with growth of 8.7%.

With acceleration of demand in sectors like automotive, white goods, real estate, etc., the steel consumption has also returned to its level and have reported YoY growth in October 2020, and is expected to continue in the coming time period as well.
India became Net Importer of Finished Steel:
Attributable to high steel consumption and low production continuously for 3 months, in January 2021, India became a net importer of finished steel.

Talking about export of steel, in the current fiscal (April- Jan FY21), it grew by 22.5%, whereas its imports fell by 36.8%.

Overall, there was moderate increase in export and also rise in imports because of revival in demand with increase in economic activities.

In recent past, tables have turned, where India is importing steel from China due to rise in demand. Earlier, India used to export steel or Steel products to China.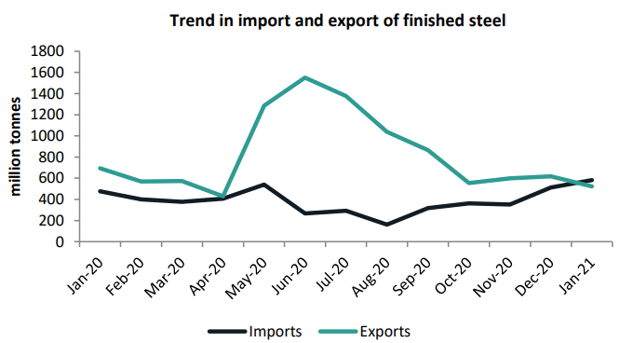 Future Outlook:
The Budget 2021 has clearly presented the vision of government towards its focus on infrastructural development.

Government route for investment on infrastructure and projects such as affordable housing, railway lie, metro rail, shipbuilding, oil & gas distribution pipeline projects, etc., could boost steel consumption.

The price may remain stable for near 12 months due to strong demand from China and recovery in domestic demand as well.

The market players of this capital-intensive industry may witness margin improvement because of lower cooking coal costs, self-sufficiency in iron ore and better fixed-cost absorption due to near normal rates.

Also, any production cut from China to achieve carbon neutrality goal may lead to rise in price, but demand will remain stable and thereby once again, India might get benefited as it may again need to export to China.

Recently, JSW steel has reduced the price of hot-rolled (HR) and cold-rolled coils by Rs. 1,000 a tonne. The same can be followed by other players as well.

Possible reasons for price cut could be:
Conclusion:
Steel Sector, a Capital Intensive industry is a purely cyclical industry. One should be fully aware about the complexities of this sector. For instance, Tata Steel has delivered return of

more than 100% in last 1Year, but still its far away from its all time highs. With expectation of increasing demand, one should keep such stocks in their radar.