Introduction:
IndusInd bank is backed by tsrong promoter - Hinduja Group. As per the existing guidelines of RBI for maximum % of stake in private sector bank by promoter, they are holding 15% stake in IndusInd Bank. Moreover, they wish to extend their stake in the Bank if RBI approves the report of Internal Working Group (IWG). Market is quite optmistic about the promoters wanting to increase their stake in the bank, which is one of the reasons for recent rally in the stock. Bank also declared its Q3FY21 results recently. Let us do a 5 point analysis of these results covering advances and deposits mix, balance sheet summary, key ratios and asset quality.


IndusInd Bank Q3FY21 Results Analysis

Financials
i) Like all other banks, interest earned is decreased by 0.6% on YoY basis to ₹7,241 crore.
ii) Also, Interest Expenditure has reduced by 9% year on year. This is mainly due to the low interest rate environment as result of low repo rate kept by RBI.
iii) With this, their Net Interest Income (Interest Earned-Interest Expenditure) has expanded by massive 11%. Net Interest Income for all the private sector banks has grown between 10%-20%, but it has proved well for the banks who had played conservative. Kotak Mahindra Bank, SBI, HDFC Bank are few examples.
iv) Other Income, includes earning from selling of 3rd party products like Insurance, Mutual Funds, Forex Income, Commissions, etc. Normalcy in the business is observed as their Other income has increased by 6%, but same is down by 8% year on year.
v) With the help of lower operating expenses, bank has efficiently managed to increase their Operating Profit by 7% on YoY basis to ₹2,964 crore.
vii) Currently bank is having Total Provisions and Contingencies at ₹1,854 crore which is 78% more than the last year provisioning. On QoQ basis, provisioning amount has gone down by 6%. In Context of Total Provisions, it is not ideal to compare on Quarter-on-Quarter basis, because previous provisioning is not the base for fresh one.
With this massive provisioning numbers, it has impacted Profit Before Tax (PBT) which is down by 35% year on year. Further it has also impacted the Net Profit which is down by 37% year on year and is at ₹830 crore.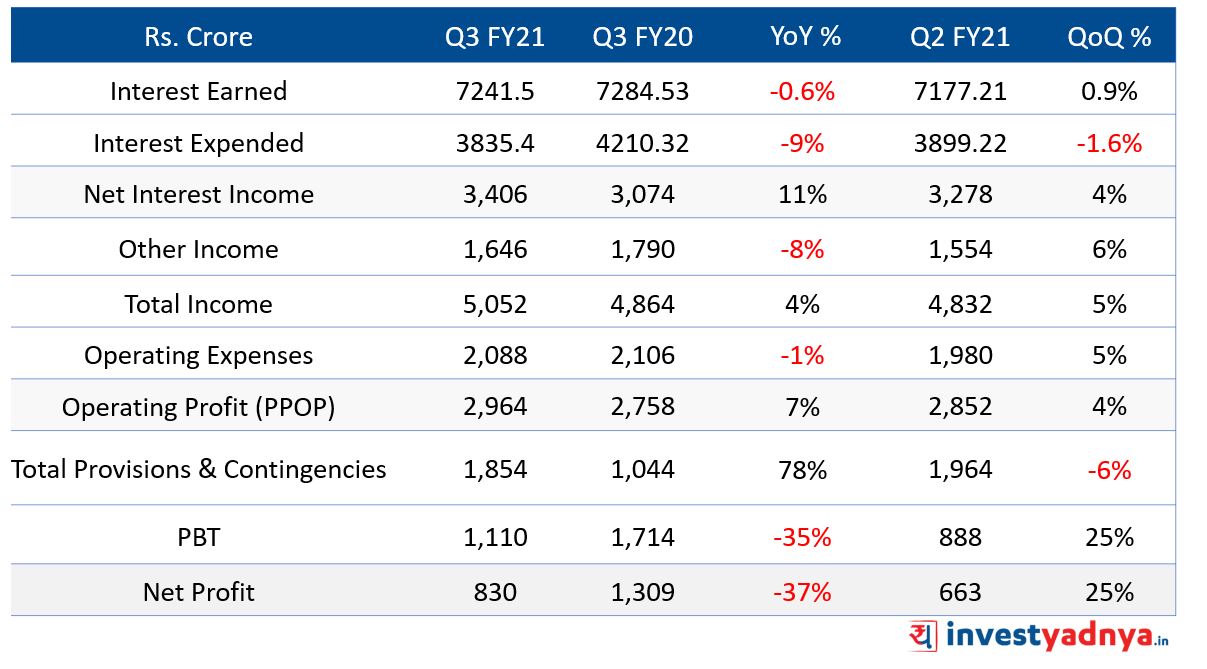 Balance Sheet Summary:
i) Total Balance Sheet Size of the bank is ₹3.41 lakh crore which is increased by 11% in Year-on-Year basis.
ii) Total Advances part of the Balance Sheet tells the story of Conservative Approach of the Bank. On QoQ basis, it is up by 3% and there are no major changes on YoY basis, it accounts to ₹2.07 lakh crore.
iii) The prime reason behind the Balance Sheet growth of 11% is due to increase in deposits which is up by 10% on YoY basis and 5% on QoQ basis.
iv) Credit to Deposit Ratio indicates that if it is increasing, Bank is in aggressive nature in lending and vice versa. As mentioned earlier, IndusInd Bank is following conservative approach, and is at 0.86 basepoints.
v) Comparison between IndusInd Bank and Kotak Mahindra Bank: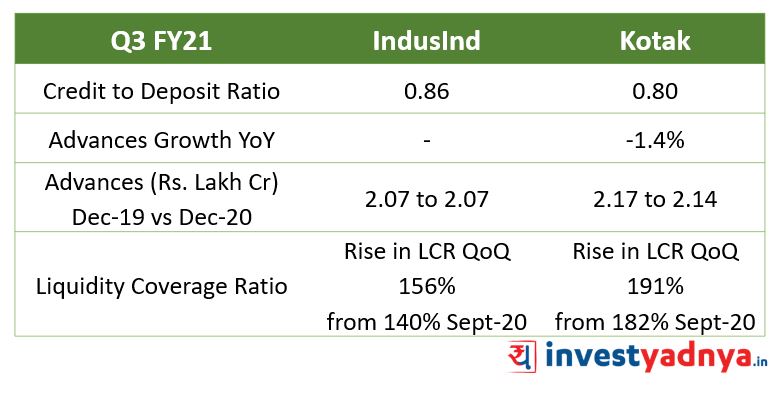 It clearly indicates that private banks are following conservative practices in underwriting loans. However, as compared to Kotak Mahindra Bank, IndusInd still seems a bit agressive in lending.
vi) Borrowings of IndusInd bank have increased merely by 4% and is now at ₹48,662 crore. It is relying more on deposit growth and not on Borrowings.
Same is the case with IDFC First Bank, bank has decreased its dependence on brrowing from capital market and relying more on deposit growth.



Deposit Mix:
i) CASA Deposits are consistently around 40% from last 4 quarters.
ii) There is increase in Total Deposits but there is great expansion in Term Deposits which is increased by 14% year on year whereas CASA deposits have increased only by 5% year on year. Growth in Term Deposits is greater than CASA deposits, which can be bit disappointing. Normally, CASA deposits should be high in order to reduce the cost of funds.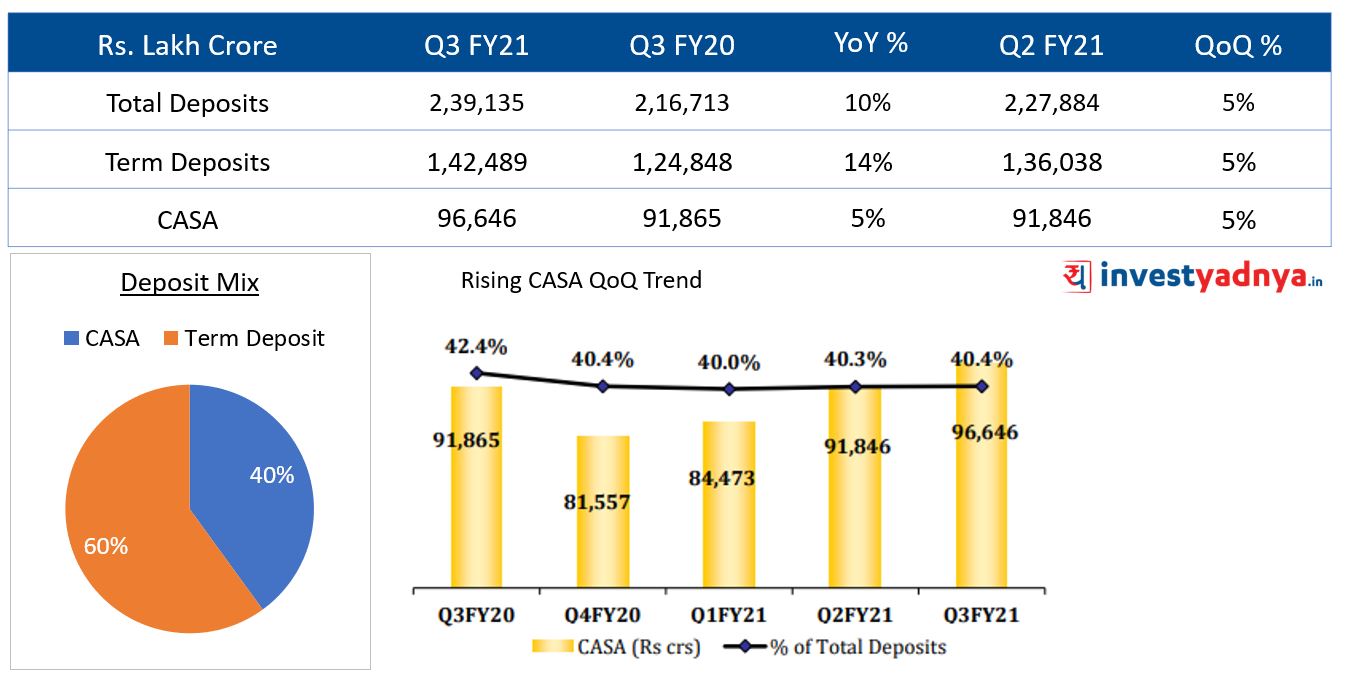 Advances Mix:
i) Large Corporate Advance account for 20% of Total Advances. The conservative approach of the bank can again be seen here. It is down by 19% on YoY basis. It represents that bank is reducing its wholesale lending .
ii) On the other hand, it has increased its advances mix in Microfinance by 11%, Non-Vehicle Finance by 4%, Vehicle Finance by 5%, Mid-Size Corporate by 7% on YoY basis.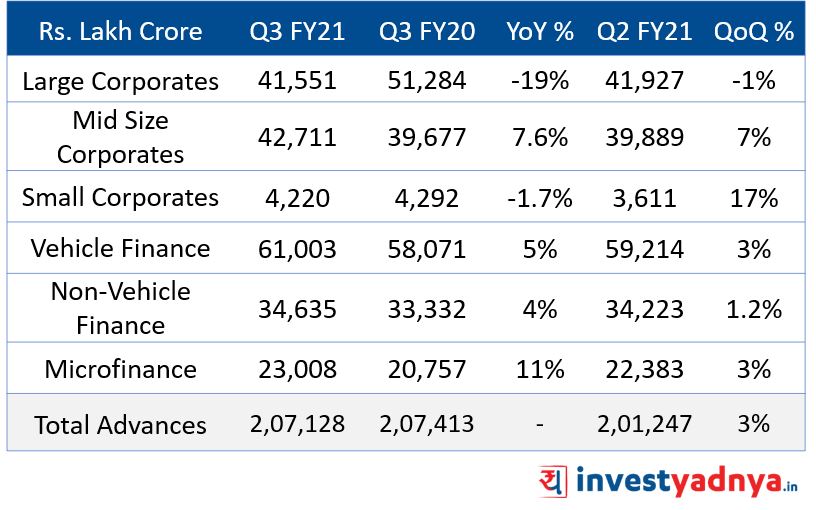 Key Ratios:
i) Net Interest Margin is decreasing every quarter , however currently at healthy levels ~ 4%.
ii) Capital Adequacy Ratio is at 16.3%. One thing which can act in favor of the bank if RBI permits the promoter to increase their stake, there might be an option of long-term equity capital. It is quite beneficial for a Bank to post high Capital Adequacy Ratio in order to cope with NPA's crisis.
iii) Ideally the higher the CASA mix in overall deposits, better it is. Company's CASA % is declining every quarter , however currently at stable levels ~40%.
iv) Lower the Cost to Income ratio, better it is for bank's profitability. IndisInd Bank's C-I is increasing continuously over past two quarters and currently ~41%. Banks have employed strict cost -cutting measures especially in post pandemic era which has resulted in C-I ratio declining ~2% on YoY basis.
v) Return on Assets (RoA) is consistently rising from 0.42% in March 2020 to 1.05% in December 2020 which is a positive sign for the bank.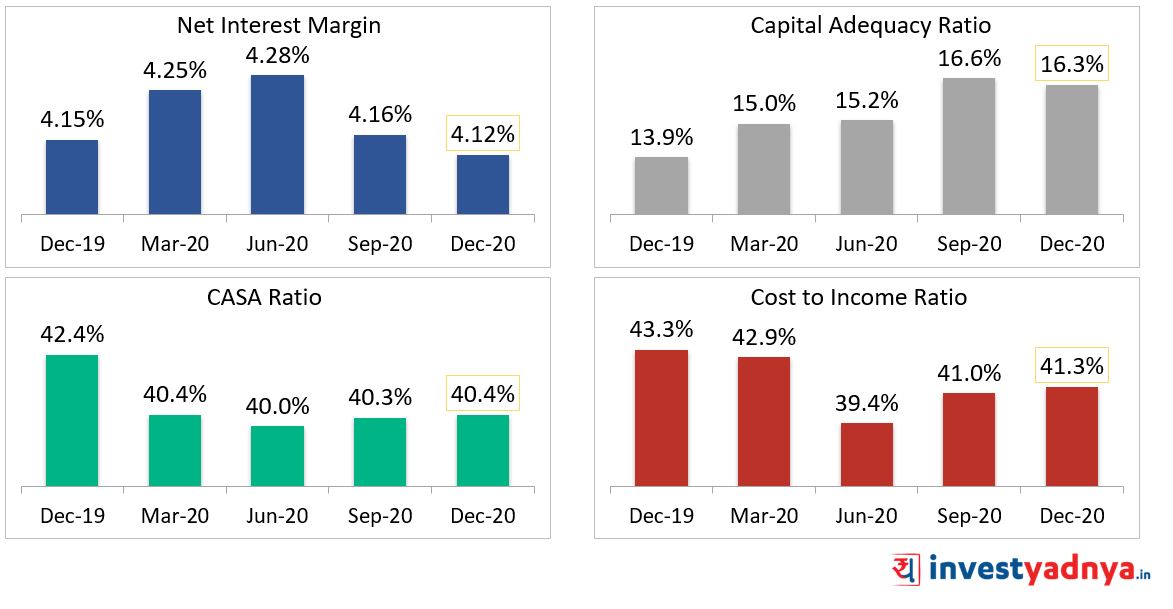 Asset Quality:
In context of Asset Quality, we will draw attention towards the Declared numbers and the Pro-forma numbers and we will also be able to conclude why the stock price is rising post declaration of result.
i) The declared Gross NPA is 1.74% and Net NPA is 0.22% as per RBI rules with Provision Coverage Ratio of 87%.
But if we consider the pro-forma NPAs, the Gross NPA will be 2.93% and Net NPA will be 0.70%.
If we consider other private sector banks like Bandhan Bank and IDFC First Bank, they have a difference of 3%-5% between the declared NPAs and pro-forma NPAs. But in case of IndusInd Bank, this difference is just of 1%-1.5%, which is quite manageable. And this is one of the reaosns behind the recent rally in stock.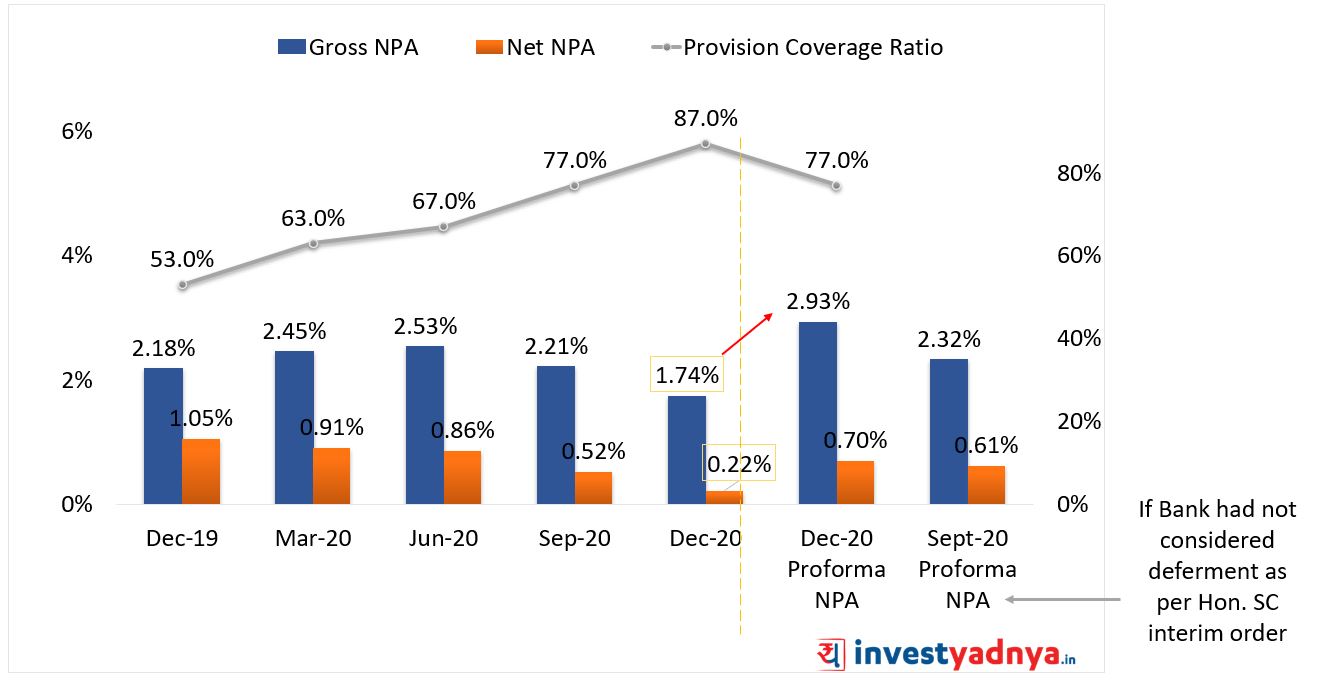 Conclusion:
Despite posting remarkable results, improving ratios, and enhancement of financials, stock price of IndusInd bank is 20% shy of its All Time High. Investors should be careful about the asset quality issues arising in the short term especially in the post moratorium period. Overall, the bank has strong promoter group and looking at the recent results , IndusInd bank seems well placed as compared to other private small lenders