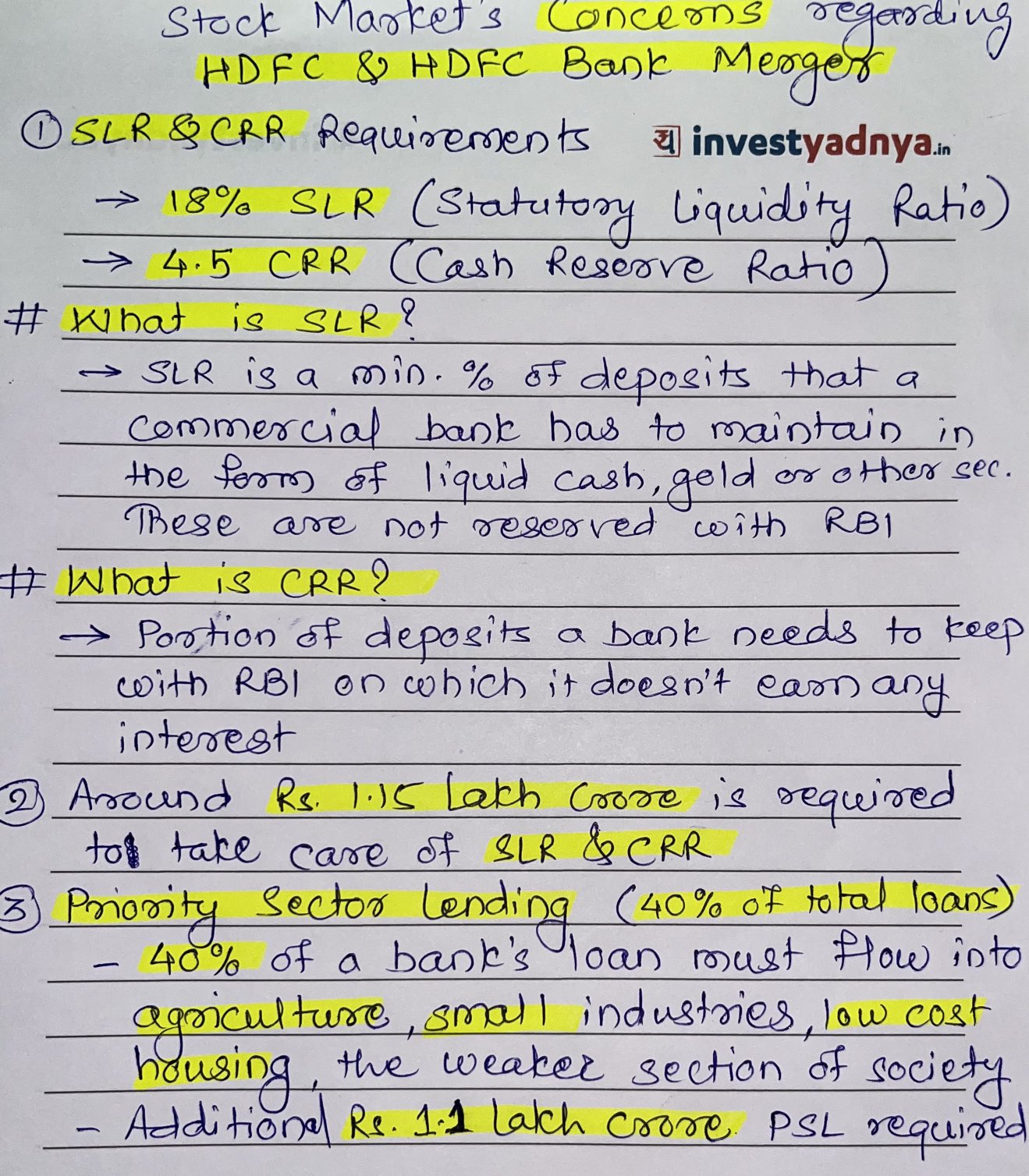 Housing Development Finance Corporation (HDFC) Limited is India's largest Housing Finance Company with one of the best product offerings. The company is the promoter group of HDFC Bank. HDFC Limited on Monday 4th April 2022 has announced the merger of the company with its subsidiary HDFC Bank the largest private sector bank. Since the news of the merger, the stock price of HDFC Bank has fallen significantly by around 18.6%, so in this article, we will be discussing what are the concerns in the market regarding HDFC & HDFC Bank merger which is leading to a fall in the stock price as well.
Concerns Regarding HDFC & HDFC Bank Merger:
1) Concepts of SLR & CRR:
SLR stands for Statutory Liquidity Ratio which refers to the It is the percentage of deposits of commercial banks (net demand and time liabilities) that every bank is required to maintain with itself in the form of designated liquid assets. Liquid Assets may be: Excess cash reserves, Govt. and approved securities free from any claim, Current account balances with other banks, Gold, etc. These are not reserved with RBI.
While CRR stands for Cash Reserve Ratio It is the minimum percentage of deposits of commercial banks (net demands and time liabilities) that is kept with RBI. The bank does not earn any interest on these deposits.
2) Requirements of SLR & CRR:
The entity needs around Rs. 1.15 Lakh Cr. to take care of SLR & CRR.
As per the reports, HDFC will need to hold a Statutory Liquidity Ratio (SLR) at 13% of public deposits, which post-merger will rise to 18% of net demand and time liabilities.
HDFC did not have any cash reserve ratio previously, and thus, against a nil CRR balance in HDFC, the merged entity would be required to hold CRR at 4 percent of NDTL.
Higher Mandatory Ratio will also push the funding costs.
Out of the total loan amount, 40% should be towards Priority Sector Lending, which means that 40% of the amount should flow into agriculture, small industries, low-cost housing, and the weaker section of the society.
Thereby additional Rs. 1.1 Lakh Cr will be required for Priority Sector Lending.
What Should Investors Do?
The Merger of HDFC with the HDFC Banks to create a large balance sheet and net worth that would allow a greater flow of credit into the economy might be very beneficial for the entity shareholders but there are some concerns as well in this merger which should be kept in mind among the investors. The merger of the entity will take period of around 15-18 months.
Disclaimer: The information here is provided for reference purposes only and should not be misconstrued as investment advice. Under no circumstances does this information represent are commendation to buy or sell stocks or MF.