Our risk profile-based Model Portfolios are available in three variants – Growth, Moderate and Conservative. As per market prices on Jan 2nd, 2020, the approximate minimum amount required for mimicking these portfolios is
· Growth Model Portfolio - INR 380,000
· Moderate Model Portfolio - INR 451,000
· Conservative Model Portfolio - INR 65,000
How should an investor begin investing in these reference portfolios? The first and most important step for you is to find out your risk profile. You can find out your risk profile by logging into your InvestYadnya account and filling up this questionnaire. We recommend seeking support from your financial advisor to map these model portfolios with your financial goals in tandem with your risk appetite.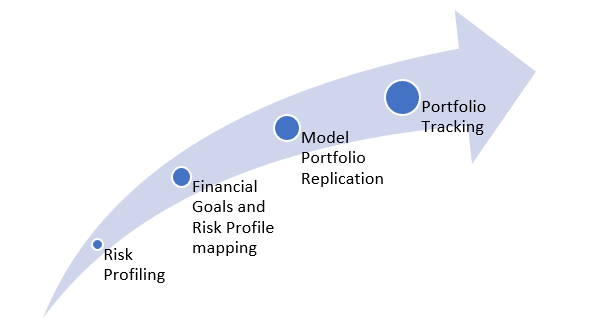 After completion of this risk profiling and model portfolio mapping step, if an investor already has the minimum amount required for replicating the model portfolio available at his/her disposal, the investor can go ahead and buy the pre-defined number of shares and mutual fund units as per the suggested allocation and weights of the stock/mutual fund in the associated model portfolio. If not, then there are two approaches that an investor can look at –

1. Accumulate savings to reach the minimum amount levels - Investors can park their interim savings in short term investments like liquid/money market funds till the time it reaches the level required for initiating investments in synchronization with the model portfolio. With this approach, you can easily track the performance of your portfolio with the performance of the respective model portfolio. For example, let's assume an investor's monthly savings are INR 22,000 per month and as per his/her risk profile and financial goals in discussion with the financial advisor the model portfolio suited for the investor is Conservative model portfolio. Starting from Jan 31st, the investor can invest INR 22,000 each month in a liquid mutual fund until March 31st, 2020, when he/she would have accumulated - 3 months savings INR 66,000 and Capital Gains on the Liquid Mutual. From April 1st, 2020 onwards, the investor can do a lump sum investment in alignment with the conservative model portfolio allocations and can start tracking its performance.

2. Start investing in small blocks of model portfolio - In this approach, an investor can start buying equity stocks and mutual funds in smaller blocks till the time the allocation reaches levels specified in model portfolios. For example, the same investor with monthly INR 22000 savings buys some of the stocks and MF units from the specified stocks and MFs in the conservative model portfolio on Jan 31st, 2020 and buys second block at the end of Feb 29th. By March 31st, 2020 when the investor exactly aligns his/her portfolio with the model portfolio, he/she can start tracking the performance of this conservative model portfolio. However, please note this approach is tedious, and the investor can not track the portfolio performance and compare it with the model portfolio till the time the portfolio exactly replicates the respective model portfolio.

For ease of tracking and execution, we suggest using the lump sum approach.